Free Accounting Software Shopbook is simple yet powerful and really free Accounting Software with Inventory, Barcode Generator and Point of Sale Billing for Small Business.
Shopbook Free Accounting Software Special Features: 1. No formal Academic Accounting knowledge required to operate Shopbook - 2. Shopbook can be mastered within hours with the help of our User Guide, Online Tutorial and Tutorial Videos - 3. Free and Simple Barcode Generator by which Barcodes can be printed on A4 label sheets - 4. No initial investment, annual updation or subscriptions, Shopbook Software is free for life and supports every language supported in Microsoft Office - 5. Invoices can be generated in A4, A5 and A6 sizes on any type of printable paper - 6. Only one Laserjet Printer required for printing Barcodes, Invoices and Reports - 7. Shopbook can easily be backed up on Pen Drive, Google Drive or Dropbox.
Software Modules

current version 4.44
PURCHASE – Purchase Order, Purchase Log, Daily Purchase Report, Goods Receipt Voucher
SALES – Sales Invoice, Sales Bill, Moving / New Items Report, Estimate, Delivery Note, Stores Demand Issue Voucher (SDIV)
PAYMENTS – Statement of Payable, Payable Summary, Payment LogList
RECEIPTS – Statement of Receivable, Receivable Summary, Receipt Loglist
LEDGERS – Account Balance, Book Balance, Trial Balance, Profit and Loss, Balance Sheet
STATEMENTS – Item List, Price List, Stock Update, Stray Stock, Sales / Purchase Statement, Costing / Pricing Reports
ADMIN – User Level Access and Posting of Invoices and Journals.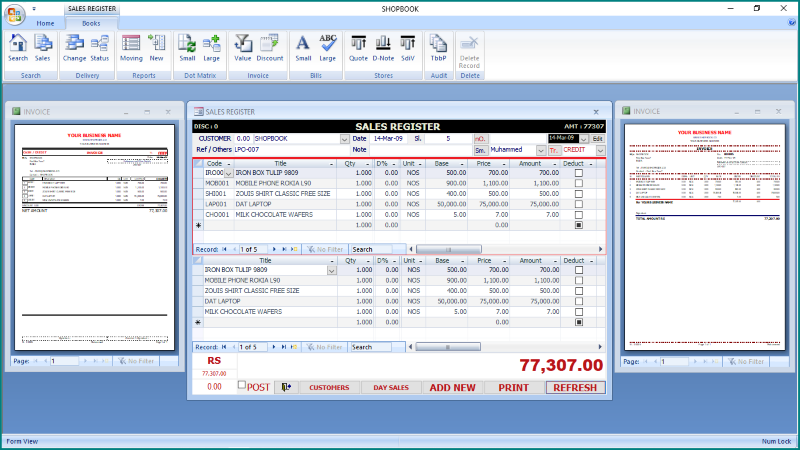 CHANGELOG : Shopbook v4.4 - Major improvements in design and features with thermal receipt printing included and sample data removed | Shopbook v4.1,2 and 3 - Extended Final Accounts from Trial Balance to Profit & Loss Account and Balance Sheet | Shopbook v4.0 - Fixed minor bug with Barcode Printing | Shopbook v3.0 - Added ability to setup and change Business Name and Details in Shopbook | Shopbook v2.0 - Removed Software Expiry, Shopbook does not expire for life | Shopbook v1.0 - Free Accounting Software Shopbook Release.
SUPPORT US WITH A SHARE - THANK YOU